Arrived in New Zealand


Published Friday January 27, 2006 · Permalink

This has been the longest break in the last two years without posting in this blog: one month. Life has been busy, looking for a place to live, childcare, a car, and a few other things necessary to settle in.

People were extraordinarily nice on arrival; wishing us well on immigration and customs officers helping us to carry our over hundred kilograms of luggage. The good thing is that they only took our bags through the X-ray machine, without the need for opening any bag. Considering the amount of luggage, it saved us a lot of pain.

Orlando behaved really well during the trip, falling asleep just before landing, and going through customs without waking up. He is happy now at childcare.
We are still staying at a temporary university house (only until next week I hope). The condition of the house is… dodgy but survivable. The university facilities manager will certainly receive a letter describing things that need to be fixed or change.
Christchurch's climate seems to be similar—at least during summer—to Hobart's. Some days hot and sunny (but under 30C), some days cold and cloudy (around 15C), some days overcast but not that cold (around 19C).
And how are the removalists performing?
We received the first part of our unaccompanied luggage on the 9th of January. We sent around 100kg of luggage using the services of Jetta Express. They promised to have the luggage in 7 business days and it took them 8. However, they screwed up and lost all my paperwork so I neded to contact them a couple of times to arrange payment and delivery. Score from 1 to 10: 6.
We are also sending a container full of household items using Allied-Pickfords. They were supposed to have organised the packing, transportation, customs, quarantine and delivery of the container. We should get our container by next week, but I can say that service is pretty average. Packing took forever and was quite undiscriminate, processing of the paperwork in New Zealand has been extremely slow and it would have taken even longer if I have not been calling all the time. The customs processed is already approved and now customs wants to have a look at the vaccuum cleaner, bicycles, hiking boots (which were fumigated before packing) and other items. Next week I will put a final score on the service.
del.icio.us tags: new zealand christchurch travel immigration removalists.
אאא
Neither here nor there


Published Tuesday December 27, 2005 · Permalink

This is in lieu of a proper post. We are spending the last four days in Australia before moving to New Zealand. The house is full of boxes and there are only the last minute jobs:
Cleaning the office and storing papers.
Setting up snail mail forwarding.
Cleaning a few things at home and confirming that all services will be cancelled on time.
Gigantic et cetera here.
I think that the next post will most likely be published on early January 2006 from Christchurch, New Zealand.
del.icio.us tags: new zealand travel .
אאא
Short before the weekend


Published Saturday December 3, 2005 · Permalink

A few quickies before the weekend:
Voyage to the centre of Tasmania: Last week I had my last field trip with my current employer. The destination was Tarraleah (Latitude 42º 18' S, Longitude 146º 26' E), which is around 50km away from the geographic centre of Tasmania (Latitude 42° 01' 17" S, 146° 35' 36" E).
Got my new Mac mini (with superdrive, apple keyboard, mighty mouse and 1GB RAM), so I will be setting it up and installing some software on it during the weekend.
I had to endure a long sales pitch over the phone just to cancel one of my credit cards. Are you sure? Would you cancel it if we throw in 2,000 reward points? etc. What a pain in the back!
Quote of the week:
I am an old man and have a great many troubles, but most of them never happened—Mark Twain.
That's all.
del.icio.us tags: mac tasmania.
אאא
From New Zealand again


Published Friday November 25, 2005 · Permalink

Last week I had my fourth trip to New Zealand in less than a year. Apart from almost being fined NZD200 for forgetting to declare a pair of boots in my luggage (I got away with a warning about the dangers of soil attached to boots) and missing my domestic connection the trip was OK. Air New Zealand is upgrading its planes in the Melbourne-Auckland route, and this time I flew in a Boeing 777-200 with an 'on-demand' entertainment system. It is nice to be able to pause the movie (any of the 40 ones available) if one wants to go to the loo.
And the perils of presentations
Every time one goes to meetings PowerPoint makes its appearance, and one gets endless bullet points, people reading slides (the teleprompter approach), chart junk and obvious recycling of old presentations. It really annoys me when someone is going over dozens of slides skipping the ones that are not useful for the current presentation.
I do enjoy presenting and most of the time spent quite a bit of time thinking and preparing:
Who are the members of the audience and what do they know about the topic?
What is my core message and the best way to deliver it?
Then I write a little 'script'—which is also the basis for the handout—and then I create some slides. By the way, when I say handout is not that 'cute' printout of your slides, but text actually written to support the presentation. This time was 9 slides for a half an hour presentation.
I always remember something that I read in A Ph.D. is not enough by Peter Feibelman: 'never overestimate your audience' (page 28). I read that as always provide some context so even people that have little idea about the topic can get something of my presentation.
I do not use a specific style for all slides (like, for example, the Takahashi Method of few large words, or the Kawasaki method, although I use few slides), but I combine them. I use as little text as possible, almost never in bullet point form, tend to use good quality pictures (taken by myself, from istockphoto or, if lucky, I get a freebie from stock.xchn). I do use simple diagrams and sometimes one or two slides with just one number or word.
A good resource for presentations—not necessarily PowerPoint— is Presentation Zen.
del.icio.us tags: powerpoint presentations new zealand.
אאא
Afternoon in Zoodoo


Published Tuesday September 6, 2005 · Permalink

In a previous post I complained about Taronga Zoo. I thought that the ticket (AUD30) was quite expensive—as anything that you could buy inside the zoo—and that the place was not that great. After arriving back in Hobart we went to Zoodoo, a wildlife park located in a farm near Richmond.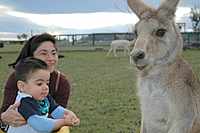 The contrast could not be bigger: the ticket was AUD12, the variety of animals much smaller but it was so much more fun. The place could be defined as a 'red neck zoo'; there is no attempt at mimicking natural conditions for most species but its main intention is to make easy the interaction between people and zoo animals and Orlando loved it.
If you have children they will really enjoy a visit to Zoodoo. There is no serious attempt at animal conservation (compared to a normal zoo) but it certainly reinforces the love for animals.
אאא