A long-delayed baby post


Published Saturday July 9, 2005 · Permalink

A colleague of mine, who is having a baby pretty soon, was asking me about my experience with baby products during this last year or so.
Good products:
Nappies (diapers for the US visitors): Huggies (by Kimberley Clark). Yes, disposables to keep what is left of my mental health. If you are into cotton nappies get a cleaning service. There is very little time available and I prefer sleeping over washing nappies.
Baby wipes: stick to huggies again. I prefer the unscented ones, but some days I wish for any perfume to overcome the smell.
Bottles: we tried three different brands: Pigeon, Pur, and Nuk. By far, the best ones were Pigeon with peristaltic nipple. Prefer wide neck over narrow neck, because they are easier to clean. Pur bottles (either normal or self-sterilising) tend to leak and nuk bottles have the weirdest looking teats of them all. When have you seen a real nipple like this?
QV bath oil: really good in the bath, no smell.
Infrared forehead thermometre: at first we tried one of those ear thermometres but they are hard to use with a baby moving.
Most useless things:
Bath thermometre: one does not need this piece of useless crap. Even worse, the maximum temperature allowed in the thermometre was still too cold bor a decent bath (probably a lame attempt at avoiding lawsuits).
The motion sensor that comes with the baby monitor. If used it will drive parents mad, because will go off at the most useless moments. In addition, it is not certified for monitoring babies susceptible to cot death. Just a gimmick for worried parents. Do yourself a favour and buy a simple monitor.
Sterilizer: if you live in a civilised part of the planet, hot soapy water will do the job and save you time; good thing that we did not buy one. Only used it while in hospital.
Baby packs: are used to carry clothing, bottles, nappies, etc. Packs designed for parents are often overpriced, low quality and not very functional. Buy a nice, properly designed backpack: it will save you money and you will get something useful. You will not have a Disney character printed on the pack, but baby will not care.
Worst products:
Nappies: Snugglers (odd, by Kimberley Clark too)
Ambiguous
Changing table: I rarely used it, prefering a bed with a cover for accidents, which happen!
אאא
About a name and language


Published Thursday March 3, 2005 · Permalink

Some times Orlando appears in this web log and people ask why did you choose that name? Well, Orlando has the advantage that is spelled the same (and with similar pronunciation) in English and Spanish. No, I do not have any relatives with that name and did not know anybody with the name.
Other Orlandos
There is Tony Orlando, but I didn't know about his existence before Orlando was born. More popular is Orlando in Shakespeare's As you like it play. Funnily enough, the most well known Orlandos these days are Orlando Bloom (Legolas in the Lord of the rings movie) and Orlando, the city where Disney World is located. I say funnily because I am not interested in any of these two. Orlando is related to Orly and seems to be related to Rolando and Rowland.
I am writing this in Rotorua (New Zealand), where English and Maori meet in a big way. Maoris are often surprised by my pronunciation of Maori words, that appears to sound very well. Vowels in Maori are quite close to Spanish, so it is not really a reflection of my language skills, but just another linguistic accident.
אאא
First father's day


Published Tuesday September 7, 2004 · Permalink

Yesterday was my first Father's day; I mean as a father, of course. The day started at 5am with Orlando reciting a 45 minutes poem full of goos and gaas, and smiles. Really memorable. It is incredible to see how much he is changing everyday.
I later called my dad, 11,000 km away and 14 hours time difference to say 'Happy father's day'. It was a real surprise for him: Father's day in Australia and in South America are in completely different times of the year.
Later during the day I felt touched by the news coming from Beslan (North Ossetia): the sadness of so many wasted lives due to fundamentalism. What would I do if I were in that situation? There are no words to express the horror suffered by those people, and here we are on the other side of the world without much that can be done.
אאא
Orlando's fan club update


Published Friday August 27, 2004 · Permalink

I have not written for a while about Orlando. No, I have not lost interest on him; on the contrary, there is so much interest that I try to spend as much time as possible with him doing things rather than writing about it.

Several people have asked for new pictures of Orlando. Here we have a couple when he was just three months old (two weeks ago):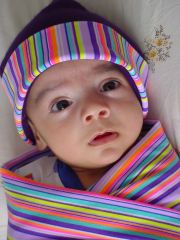 After a slow start he is catching up on weight (5.5 kg) and size (63 cm) and becoming very talkative, with lots of goo, gaa, etc. He is smiling very often and starting to sleep for longer during night (for the relief of his parents).
אאא
Beam me up Orlando!


Published Wednesday June 16, 2004 · Permalink

As I mentioned some days ago, I bought a PalmOne Tungsten T3. I have slowly been exploring (and discovering) software and hardware features.

Yesterday, I went to K-mart and saw a Kodak digital lab. I was starting to pull the SD card off my PDA when I realised that the lab had an infrared port. A few taps and I was in 'photo' beaming Orlando's pictures to the lab. A few seconds later I had photo quality prints of the cute boy. I really love when technology works without any hitches!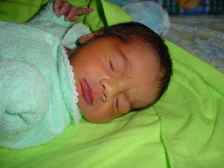 I have also been testing and buying some additional things for the PDA: Agendus Pro, a calendar replacement (which I bought, it is very good value); Bonsai, an outliner (which I am testing but I have not bought yet); and Handbase a database that I am starting to evaluate. I have also purchased a Krusell leather cover for the PDA, which has good quality, although it can not be used while synchronising, and Brando's WorkShop Screen Protector. This screen protectors are great, washable and the delivery took only four days from Hong Kong. Before I purchased Brando's products I tried with Belkin's clear screens, but they were too short for the T3 and not worth the money, so I took them back to the shop for a refund.
אאא